A LIFELONG DREAM COME TRUE FOR THE OWNERS OF CSN AUTOLAB
Adding to a growing roster of collision centres in the prairies, CSN has announced that CSN Autolab in Calgary, is the latest repair facility to join the network. Recruiting a high-quality repairer in the prairies has become the norm for CSN but when it comes to CSN Autolab they are a far cry from your average collision centre.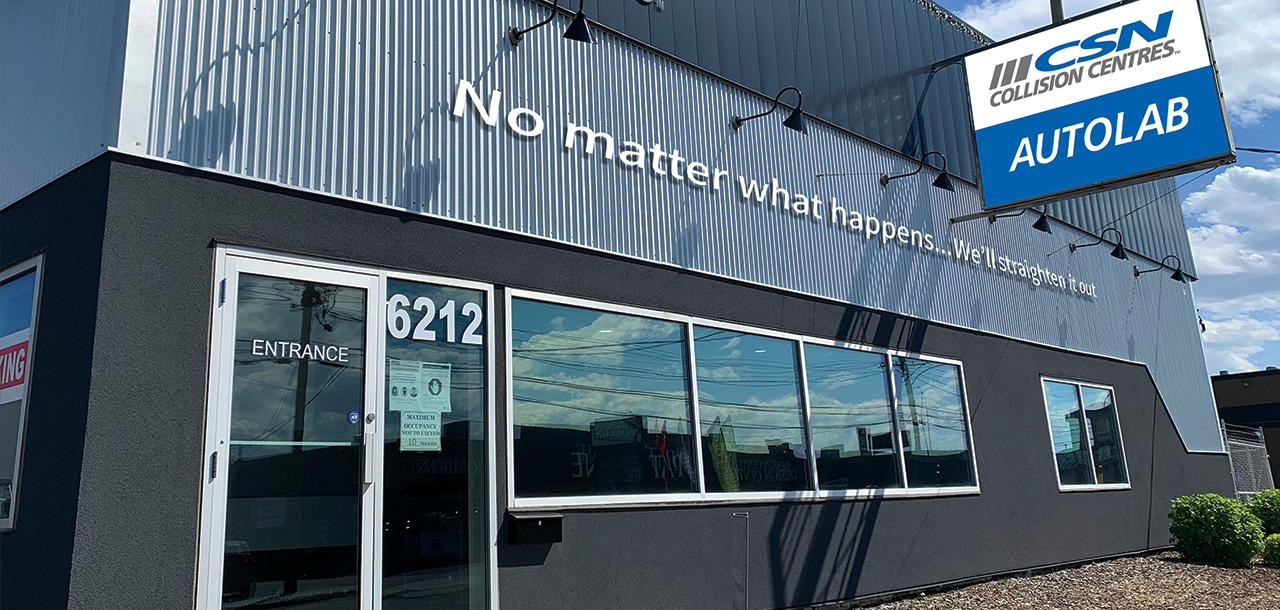 The leadership team at CSN Autolab consists of 3 childhood friends whose relationships date back to elementary school. CSN Autolab CEO, Ryley Churchill, got his start in the collision repair industry as a detailer fresh out of high school. From there he transitioned into a collision damage analyst position and eventually became the Western Canadian Business Development Manager under another banner. Curtis Proulx, CSN Autolab's CTO, had thrived on the shop floor from a young age leading him to take the more technical path in his collision repair career, receiving his Red Seal Journeyman accreditation in 2011. President & COO Troy Bozarth completes this leadership team as his passion for cool cars, good business, and great friendships has led him to join the collision repair industry after a decade long career in oil and gas as a Geophysicist. "Starting this venture together gives us the autonomy to provide our clients with the level of service we've always felt they've deserved while allowing us to determine what the future of our industry holds going forward. The bonus of getting to do it with your childhood best friends is a dream come true." Churchill said.
The CSN Autolab partners are not your typical leadership team when it comes to the collision repair industry and that is a point of pride for them. "Curtis and I are industry guys, we have a combined 25 years experience between us but with that said, we're definitely still the youngest operators in the room at every industry event we attend." Churchill said. The groups ascension to ownership is the result of an idea that budded in the spring and they were able to turn what seemed like a long shot into reality with incredible efficiency. Driven to create a path for themselves, these 3 friends took over the building of a long-standing collision repair facility in July, marking their first foray into entrepreneurship. "We're the car guys, our clients might not be, so knowing how important it is to educate them while also building that trusting rapport is integral to us, our clients know we always have their best interests at mind." Proulx said.
With two long standing collision industry members at the helm, CSN Autolab has a pedigree of hands-on experience. The wildcard of course is Bozarth, who despite being a car aficionado, does not enter the business with any preconceived notions of what the industry landscape is like. "It makes him extremely valuable to what we're trying to do, not only because he's exceptionally intelligent but he also gives us a holistic outsiders' point of view." Churchill said. "I don't need to know the technical side of things as much, I leave that to Curtis, but I always approach business in the right way and add value by identifying opportunities that maybe some long-time industry members might overlook." Bozarth said.
In selecting a banner, CSN was an easy choice with industry reputation acting as the catalyst for the final decision. For CSN taking on 3 brand new owners without a tenure of ownership is unusual. "We typically recruit repairers that have a ton of experience, but it speaks to how smart, technically skilled, and highly motivated these guys are and with our support the sky is the limit for them." said Kari Barton, CSN Western Sales Manager.
ABOUT CSN AUTOLAB
CSN Autolab is a high-end collision repair centre in Calgary, Alberta. Providing exceptional customer service and safe, high-quality repairs to the Calgary driving community, CSN Autolab takes pride in making sure every customer is treated with care and gets back on the road with confidence.  
www.csncollision.com/autolab