Zenetec expands CSN Network in Barrie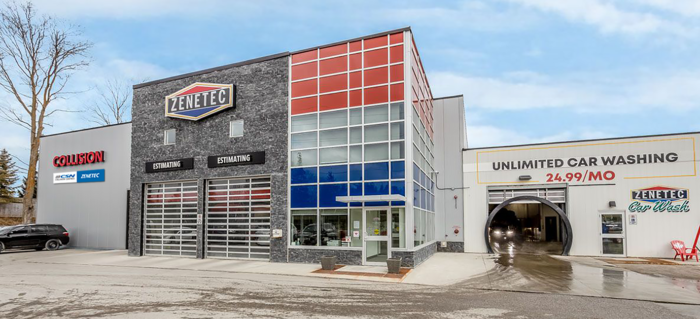 CSN Collision Centres welcomes their latest addition in the market-leading network, CSN Zenetec Veterans.
Zenetec has been an automotive repair staple in Barrie for 30 years, known for their quality repairs, excellent customer service, and state of the art facility. While Zenetec has put down roots in their community, it did not stop them from looking to the future. Started out as one store in Barrie, Zenetec has expanded rapidly into multiple locations, now with CSN Zenetec Veterans continuing the decades-long legacy of service and innovation.
Zenetec is a family-run business started in 1992 by Martin Monteith, who emigrated from Northern Ireland in the 80's. Entrepreneurship and vehicle repair runs in the bloodline; the Monteith siblings subsequently followed their father's footsteps to continue the family business. In 2000, Martin's son, William Monteith, became the new manager at Zenetec. William's brother and sister, Richard and Diane Monteith, also joined alongside him as the painter and appraiser, respectively. Similarly, many of their staff members have been part of the business for a long time and were treated like family. Later in March 2018, the Monteith family brought the same family values and 30 years of experience to start a new location, Zenetec Veterans, which has now joined the CSN Network.
All members of Zenetec share the same commitment – to serve the community, whether that be providing high-quality collision repairs or doing charitable work. To many Barrie residents, Zenetec is more than just a collision centre – they are an active supporter of the community, going above and beyond to help those in need. For decades, they are involved in hosting food drives and sponsoring local sports teams. Their philanthropic efforts extended to volunteering staff to assist local homeowners clean up the debris after a destructive tornado. When asked about what they love about in collision repair, many staff members quoted that they enjoy working for a family-oriented organization who is always willing to extend a helping hand.
Through the years, they have established great relationships with dealerships. It only made sense that Zenetec Veterans joins a banner to continually leverage the nationwide network and set themselves up for future success. "If you're not moving forward, you're not moving at all," said Business Development Manager, Greg Sherman, on their mission of growth. "After 4 years of seeing the progress made with this location, we are excited to take things to the next level with CSN."
Visit CSN Zenetec Veterans: csncollision.com/zenetec-veterans
For more information contact: larry.french@csncollision.ca