CSN COLLISION CENTRES ADDS ITS NEWEST LOCATION IN ONTARIO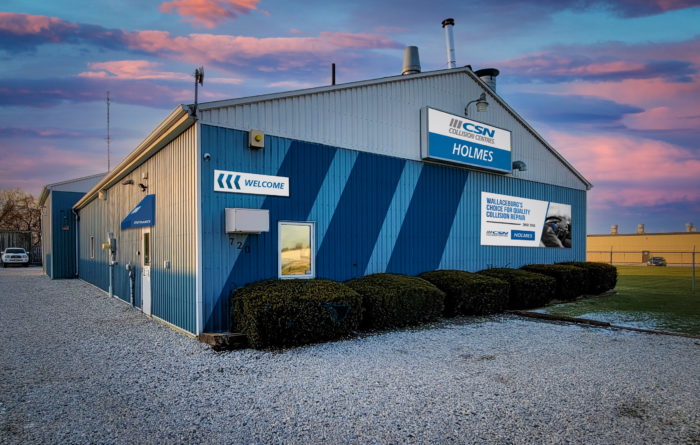 CSN Holmes is the latest addition to the CSN Collision Centres network
TORONTO, February 1, 2022 – CSN continues to expand with the latest addition to their growing network of market leading collision centres. CSN Holmes formerly Holmes Auto Body a long-standing repair facility situated in the community of Wallaceburg, ON since 1982.
Now owned by the team of Ryan Johnson and Chris Jones, who currently own and operate CSN Chatham and CSN Tilbury, this third location will provide them the ability to better serve the Chatham-Kent area.
"We are excited to add another repairer to the roster here in Ontario," said CSN Collision Centres Vice President of Sales, Larry French. "CSN is proving that we have options for repairers regardless of their ownership structure and the value of our business model extends to single and multi store locations."
The 5,000 sq. ft. repair facility plays a crucial role to the driving community in Wallaceburg. With their focus on delivering high-quality collision auto body and paint repairs to the customers in the area. "Our staff is focused, and we're all pointed in the same direction which means we work as a team to make sure every customer gets exactly what they expect when they come to CSN Holmes and that's an outstanding experience," according to Johnson and Jones. "We are grateful with such an amazing team we have the ability to see our collision group grow."
About CSN Holmes
CSN Holmes serves the community of Wallaceburg, Ontario with high-quality collision and auto body repair. Rodger Holmes, the former owner of Holmes Auto Body is proud to be continuing his journey serving the community of Wallaceburg with the support of Apex Autogroup. With a roster of highly trained technicians and customer service specialists the CSN Holmes staff take pride in treating every customer they see like family. Owned by existing CSN store owners Ryan Johnson and Chris Jones, who also have locations in Tilbury and Chatham.
For more information contact: larry.french@csncollision.ca